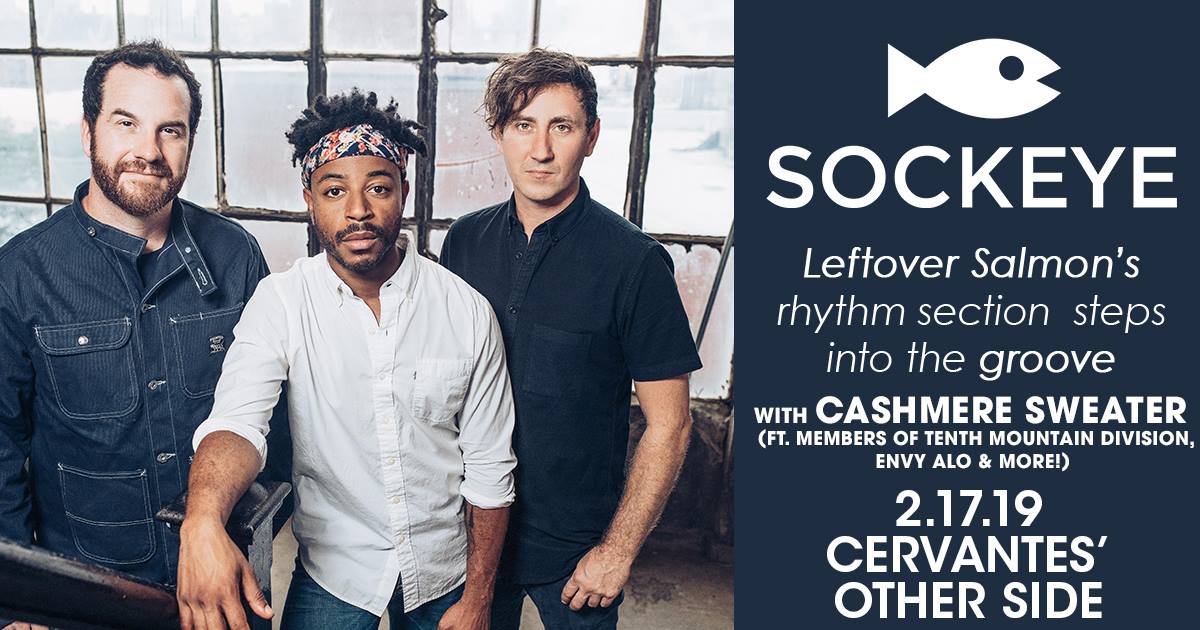 Sockeye

| | |
| --- | --- |
| | James Hoskins |
| | February 17, 2019 |
| | Denver |
| | Cervantes Other Side |
| | Google Map |
Tickets
James will be joining in for one set only. He will join the band at 11:00 pm after the Playback Theater Show at Curious Theater (come to both!!) The opening act: Cashmere Sweater starts at 9:00 pm
Sockeye is the new project from Alwyn Robinson (drums/vocals), Greg Garrison (bass/vocals) and Erik Deutsch (keyboards/vocals), the exceptionally versatile rhythm section of legendary jam-grass band Leftover Salmon.
Effortlessly fusing jazz, Americana, free improvisation, rock and soul, Sockeye pushes boundaries and pulls at seams to create a unique spin on the piano trio tradition. Robinson's modern, fluid and intense drumming fuels the creative fire for Deutsch and his endless supply of organic keyboard sounds and unpredictable lines. Garrison's firm support and melodic voice on the acoustic and electric basses serve to glue it all together into a potent gumbo of something classic and new at the same time.
All three members bring their soulful vocals and original songs into the mix as well, serving to make Sockeye a not-to-be-missed musical experience.
Cervantes Other Side
2637 Welton St, Denver, CO 80205
February 17, 8:00 pm–12:30 am
$12 advance, $15 day of show